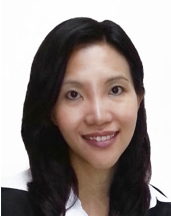 Ms. Grace Lam
Managing Director, Senior Consultant
As the Managing Director and Senior Consultant of Talent Professional Training Group Limited, Grace Lam has more than 15 years of experience in the corporate training industry, focusing on managing and developing training services for large-scale and multi-national corporations in Hong Kong and the Mainland China. These services range from training business operations to training sites and facilities setup while these have enabled her to build extensive experience and expertise in providing training solutions to the clients with professional training programs.
Grace is specifically specialized in various personal effectiveness programmes, such as Neuro-linguistic Programming and Enneagram, and she particularly emphasizes the importance of interactive approach during training in order to maximize the impact of the training. Her experience and knowledge allow her to share the most useful and helpful recommendations with the audience during training, while her passion towards training also enables her to be an active listener for gaining the understanding of the true needs of the clients, so that the most suitable training can be designed and delivered.
With her enthusiasm in the industry, Grace has built up close relationships with her clients throughout the training experiences and her interactive training approach has also been well received by many of the participants of her training sessions. In recent years, Grace has been actively involved in training programmes design and training delivery with very positive feedback being received. Her clients are from different industries, from finance to consumer good, from accounting to public organizations, and some of the clients include DHL Express (Hong Kong), Sun Life Financial, SOGO Hong Kong, FTLife Insurance, FWD Life Insurance, China Mobile, Club Med, PricewaterhouseCoopers, Hong Kong Jockey Club, American Express, BP Oil, Oracle, A.S. Watson, Hongkong International Terminals, Bank of China, CNOOC, 3M, Parker Pen, Deloitte, Hong Kong Science and Technology Parks Corporation, and governmental organizations such as Environmental Protection Department, Education Bureau, The Judiciary, Land Registry, etc.
Ms. Grace Lam's Professional Qualifications :
Certified NLP Trainer of International Association for NLP (IANLP), Switzerland
Certified NLP Trainer of Association for NLP (ANLP), UK
Certified Neuro-Semantics Trainer (International Society of Neuro-Semantics ®)
Experiential-based Trainer
NLP Master Practitioner of International Association for NLP, Switzerland
NLP Master Practitioner of American Board of NLP (ABNLP)
Self-Actualization Leadership Certified Programme
Certified Hypnotherapist of American Board of Hypnotherapy (ABH)
Expertise in Training & Development Management
More than 15 years of experience in senior management in training industry