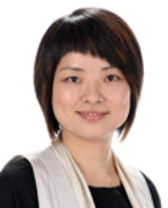 Ms. Pinky Lam
Senior Training Consultant
Ms. Pinky Lam has extensive experiences in providing trainings to diverse groups of participants on topics including MBTI, Neuro-Semantics, NLP, professional presentation, communications, interpersonal relationship, customer service, AQ, EQ & stress management, team building, applied psychology and other soft skills to enhance self performance for excellence. She is highly praised by clients for her lively presentations, practical knowledge and applicable skills.
She has served various corporate and organizations such as: HSBC, Mizuho Bank, VF, Midland Realty (Strategic) Ltd., Labour Department, Vocational Training Council, World Vision Hong Kong, Hong Kong College of Technology, Hong Kong Employment Development Service, Youth Employment Services, Neighbourhood Advice-Action Council, Hong Kong Girl Guides, Sik Sik Yuen, Shatin Government Secondary School, Shau Kei Wan Government Secondary School, Hong Kong Association for Specific Leaning Disabilities, etc.
Ms. Lam holds a Master of Arts Degree from The Chinese University of Hong Kong. She is also a certified Neuro-Semantics Trainer, NLP Trainer, MBTI Step I & II Administrator and Hypnotherapist.
Ms. Pinky Lam's Professional Qualifications :
Master of Arts in Social Work, The Chinese University of Hong Kong

Bachelor of Social Science in Psychology, The Chinese University of Hong Kong

Certified Neuro-Semantics / NLP Trainer, International Society of Neuro-Semantics

MBTI Step I & II Administrator, APP

Certified NLP Master Practitioner

Registered Hypnotherapist