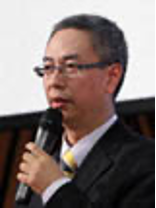 Dr. Michael Kwong
Senior Training Consultant
Dr. Michael Kwong holds degrees from the University of Nottingham (U.K.) and Newport University (U.S.). He has worked in various leading media corporations including Asia Television, The Express News (Deputy Sales Director) and the New Evening Post (General Manager, Advertising Dept.) with over ten years' successful experience in the sales and marketing field.
Dr. Kwong has been a business consultant and a part-time lecturer for a few institutions including HKMA, CUHK SCS, CityU SCOPE, PolyU (CBC, HKCC & SPEED), etc. He is especially strong to deliver training with topics in: win-win negotiation, supervisory skills, Leadership with Chinese Wisdom, EQ and AQ, customer service excellence, customer relationship management, professional selling skills, marketing strategy, creative thinking, team building and communication.
Dr. Kwong has served in the past as one of the founding council members of the International Institute of Management, an executive committee member of the Chartered Institute of Marketing (HK Branch), Advisor of the Office of Chinese Management Development, City University of Hong Kong (03-05) and Training Director of Hong Kong Institute of Marketing. He has been appointed a specialist for the National Committee of Vocational Accreditation Committee by the China Business Management Association since 2005.
Dr. Kwong is a training consultant specializing in the area of leadership skills, supervisory management training, crisis management and teambuilding. With over 20 years in the industry, he is highly experienced and skilled in delivering workshop on managing time and developing leadership competence.
Dr. Kwong's clients include: Standard Chartered Bank, Bank of Communications, CITIC Industrial Bank, China Construction Bank, Mizuho Bank, Lloyd's Bank, Li & Fung, Taifook Securities, Morgan Stanley, VF Asia, McDonald's, L'Oreal, Mattel, Hong Kong Telecom, Nortel, Huawei Holdings, Nvidia, Hitachi, Roche, Otis China, Rockwell Automation China, Fourseas Group, CLP Power, Cathay Pacific, Bayer, Jones Lang LaSalle, ASTRI, Airport Authority, etc.

Dr. Michael Kwong's Professional Qualifications :
DBA in Newport University, U.S.
MBA in Newport University, U.S.
BA (Hons) in University of Nottingham, U.K.
Diploma in Marketing, The Chartered Institute of Marketing, U.K.
Founding Council Member, International Institute of Management
Ex-co Member, The Chartered Institute of Marketing (HK Branch)